Albania is a country rich in breathtaking nature, fantastic food and people who live from the heart with great integrity. A modern humanistic society, where religions coexist in peace. Local farmers and families produce an abundance of fruits and vegetables all year round, and you can buy fish directly from the fisherman on the beach at sunrise. The scenery is magnificent with its high mountains, large rivers, miles of sandy, pebbled and rocky beaches, paradisic coves, brackish lagoons and 300 days of sunshine per year.  The perfect destination for nature and adventure, food and wine, culture and history and sunny beachlife.
Enjoy Our Albania in pictures
We collect places, interviews, experiences, travel diaries, articles and much more that we want to share with the world. Check out our Instagram account for a colorful collage of Albania, our films on YouTube and read our stories on the blog. We hope you enjoy Albania through our eyes!
This error message is only visible to WordPress admins
Error: No feed found.
Please go to the Instagram Feed settings page to create a feed.
We are proud to announce that we are an accredited partner to The Travel Collection, placing Experience Albania among the top destination management companies (DMCs) for the Nordic countries to Albania.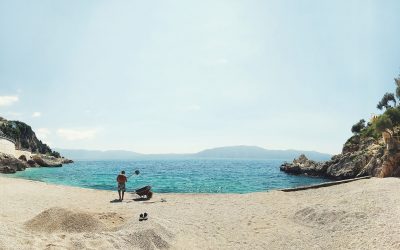 Shqip / EnglishWhy Purposeful Travel will be a Deal-Breaker: Dichotomies and Personal GrowthWe are patiently observing people's travel patterns changing rapidly due to COVID-19. Predictions are being made about a future doom and gloom of the tourism and travel...
Nearly everything grows in Albania. Abundantly. Sunkissed fruits and vegetables take turns to be in season, providing fresh produce all year round. Along the coast, you can enjoy the best seafood you have ever tasted, and the meat from the mountain is fresh from animals that have grazed the clean mountain grass. The whole country offers ecological produce. Chemical fertilizers and pesticides are rarely used. Food is close to peoples' hearts. The belief that food is our most important medicine is strongly rooted in the tradition of the Albanian kitchen. We offer exclusive visits to local farms and vineyards where you will meet farmers who love to share the wisdom and knowledge of their trade and traditions. We take you to restaurants who harvest their fruits, vegetables from their own garden. This is quality of life.
Rich, diverse nature, unexplored and untouched territory. A dream for people who want to experience adventure – big and small. Albania offers breathtaking nature with powerful mountains, deep rivers, a diverse coastline of beaches, cliffs, coves, lagoons. You can find Europe's entire range of biotopes in this little country of Eden. We partner with adventure guides who know the land inside and out. Rafting, trekking, mountain biking, are just a few examples of how you can experience this wild nature. The Albanian people live close to nature, with the wisdom of mother nature passed down through generations.
Albania has a rare, unique history and rich culture. Berat and Gjirokaster are two 3000 year old UNESCO protected world heritage cities, inhabited to this day. Fascinating remnants from the communist dictatorship can be found throughout the country. The Albanian language is said to be one of the oldest languages. It has its own branch on the tree of languages. The legend tells that during decades of occupation, the Albanian language was preserved through the folklore. Albanian folk iso-polyphony is today inscribed on the UNESCO Representative List of the Intangible Cultural Heritage of Humanity. Most Albanians are highly spiritual, yet do not conform or adhere to religion. Religions co-exists in peace.
Albania has 360+ km coastline of sandy beaches, pebbled beaches, cliffs, paradisic coves, brackish lagoons. Wild rivers with crystal clear water, hot springs with healing powers. 300 days of sunshine per year will quench one's thirst for beachlife, swimming, water sports and lazy days in the sun. Beachlife is a big thing in Albania, and there is something for for everybody. Practically the whole country visits the coast during the summer. Families arrive early in the morning, choose their sunbeds in a beach club, and enjoy the whole day in the shade of a parasol, eating good food, meeting friends and family. The beach clubs and restaurants are often of very high quality because Albanians want good food wherever they are.
We collect places, interviews, experiences, travel diaries, articles and much more that we want to share with the world. Check out our Instagram account for a colorful collage of Albania, our films on YouTube and read our stories on the blog. We hope you enjoy Albania through our eyes!
Durrës
Tirana
Vlorë
Sarandë
Theth
Rrogozhine
Blue Eye (Syri i Kaltër)
Kepi i Rodonit
Gjiri i Lalzit
Bla bla bla bla länk
Lake Ohrid
Berat
Pogradec
Tepelenë
Gjirokaster
Dardha
Korçë
Divjakë-Karavasta
Brezovice
Frequently
Asked
Questions
Food & Restaurants
The Albanian cuisine is fantastic, boasting fresh produce often harvested directly from the garden or the nearest farmer. If the waiter recommends the seafood plate, it is a good idea to choose this, as the fisherman probably just left a delivery.
Climate
300 days of sunshine a year and a Mediterranean climate with hot, dry summers with a temperature that can rise to above 40º C. Relatively short and mild winters. The climate can vary greatly from zone to zone in terms of temperature, precipitation, sunshine, humidity, etc.
Currency
Albanian Lek (ALL)
Cash is the most common form of payment in Albania. Many restaurants do not accept cards, so always bring extra cash.
Cash & Exchange
You can exchange from EUR to ALL at any currency exchange office, even from SEK to ALL at the larger brances. At ATMs you can withdraw LEK and EUR. The airport in Tirana has both ATMs and currency exchange offices.
Airports
Tirana International Airport, Tirana Corfu International Airport, Greece (by bus and ferry to Sarandë)
Ferry Ports
Durrë is the largest ferry port in Albania with five ferries per day to Italy in high season. Second ferry port is Vlorë with several weekly connections to Italy. The third ferry port is Sarandë with connections to Corfu several times per day. Here you can take the fast ferry and only in 45 min you are at your destination. There is also a normal ferry that takes 1 hour and 15 min.
Taxi Service
We offer taxi services in the region Tirana, Durrës, Vlorë. Taxi is reasonably priced in Albania. The drivers are very honest and there is no need to be worried. Ask for price to where you go and they will give you approximate prices. They drive in taxameter and you pay with cash.
Driving
Until 1991, there was a government ban on privately owned cars in Albania. Thus, the greater part of the population did not start driving until the 20th century. This naturally has implications on the style of driving in the country. It is important to follow the traffic and not blindly follow the traffic rules that you are used. You need to learn to read the traffic, dance with the other drivers. If you do this it is fairly easy to drive in Albania. One rule exists though – the hungriest goes first. Infrastructure is still in a stage of development in Albania, roads and highways included. Highways are not very common, and drivers are generally not used to driving at high speeds. On roads with two lanes, people often drive in the left lane because there are less potholes and the exits and entrances are often short and without good sight. Also be careful in the right line of bicycles without lights, tractors, donkeys and shepherds with goats.
Public Transport
The public transport is not yet developed in all parts of Albania. Bus stops were introduced not so long ago across cities and rural areas. Still today, you can stand practically anywhere along the side of the road and the bus will stop to pick you up. Timetables don't really exist. It is best to ask around for information and people will be happy to help you.
Language
Albanian is the language of the country, and many Albanians also speak Greek and/or Italian. English is spoken mainly by the younger generations. A portion of humility and an open heart also tends to take you quite far.
Greeting Phrases
Hello – Përshëndetje Goodbye – Mirupafshim Thank you – Faleminderit Please – Te lutem
Religion
Albania is a country where all religions coexist in harmony without one pronounced state religion. Albanians are spiritual, but they not necessarily follow a religion, in which case it is kept a rather private matter. Many traditions from different religions are officially  celebrated in the country.
Culture
The Albanian culture is strong and old. Albanians are a proud people. The mountain people are historically seen as very strong, and have protected the country from attacks from invaders. The music scene is very strong and it is told that the Albanian language was preserved during years of occupation through its folklore.
History
Albania has a unique and fascinating history. We recommend that you do some research before you visit the country, as an understanding of the past will enrich your stay.
for your bespoke experience of Albania